My First Car - A 1966 Volkswagen Beetle

Hi my name is John and I created this site as a tribute to the 1966 VW Beetle, the first car I ever owned. I would be remiss if I didn't thank my wife Tammy who drove me all over Wisconsin in 2003 while I tried to find a competent mechanic to work on my Sea Sand 1966 beetle.
John Muir - Volkswagen Guru and Author of "How to keep your Volkswagen Alive - A Manual of Step by Step Procedures for the Compleat Idiot" said "The '66 Beetle is my personal favorite. The 1300 engine was powerful, frugal on gas, and could wail at high RPM all day if asked. This is an excellent collectable that can double as a daily driver, strong and well constructed"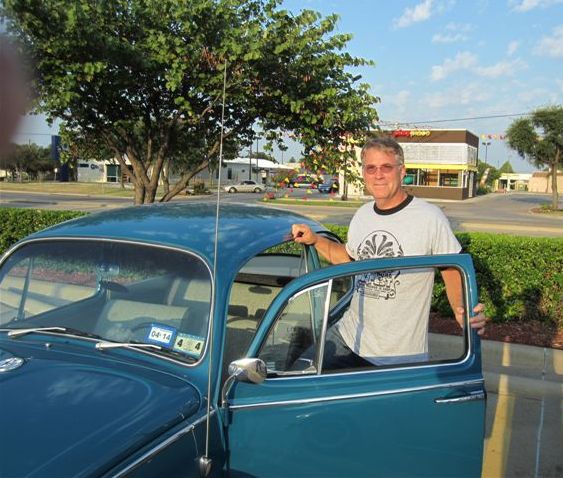 If you own or have ever owned a 1966 Beetle, you probably have a feel for the things that made it special. There were some unique changes in the 1966 model year; most I have listed on the site as ď1966 Model Year Changes". The emergency flasher on the dash in 1966 was a one-year-only change, while other improvements, like the suspension, were more long-term changes that were incorporated into the beetle. 1966 was also the last year of the 6-volt electrical system, and I believe that a 12 volt system was actually an option in 1966, just like seat belts.

My current '66 Sea Blue Beetle (left) is true to stock and remains with its 6-volt system and has its original engine as well. I recently had it repainted, had the front-end restored to original condition, original 66 wheels installed, and had the interior restored to as close to original condition as possible. It still has the original black floor mats, owners manual, and service booklet.

I bought my first Volkswagen beetle shortly after I graduated from high school in 1975. I found it sitting in the bright August sun at a used car lot on Park Street in Madison, Wisconsin, named "Park Bug Town Motors" it was a gold 1966 Beetle. It had arrived months earlier from California and ended up there, apparently just waiting for me to arrive. The car had been painted the sun bug gold color and I immediately took a shining to it. I had gone to check out the cars on this lot with a person that worked in the same office as me, and told me that he would help me find a good vehicle. As soon as he saw me looking at the 66, with a very serious tone in his voice he said "John Boy...don't you buy that car!", but it was too late, I was smitten. The Dealership had taken a large (and somewhat obscene) decal off the driverís door when they took possession of it so I had to have the door repainted to match, but other than that it really looked sharp. My recollection is that I paid a little over $900.00 for it. The body was very solid - not a single flaw underneath, and given the hash winters in Wisconsin I immediately bought a ton of undercoating and painted the floor pans. There were other things on the inside that I replaced over time as well, like the big "Barefoot" gas pedal - very 70's! Unfortunately the body of the car was the most solid part of this '66, and I was about to find that out - mechanically it was on it's last legs.

Even though I was working full time, it was almost impossible to keep up with all the repair bills that I had for the bug. One of the first days I had it out on the highway I learned what re-tread tires were, as they came apart all over the road. A couple weeks later I found out what a car steers like when the front end ball joints fall apart, having disintegrated when my room mate and I traveled over some railroad tracks just outside of Lodi Wisconsin on what was supposed to be a quick drive out in the country.

In the fall of 1975 I decided to take a job thirty plus miles from Madison in a small town called Fort Atkinson. Certainly my car was up to the task, having had new tires, a new front end and a slew of other repairs done over the past three months, but I was wrong, she was still on life support.

For the first part of the winter 1975 I had to push start the bug because the starter was shot and I had no funds left. It would be four weeks of rolling that baby down the street and popping the clutch before I could afford to fix it. Then five months after I bought it, on a very cold morning a week before Christmas of 1975, I was driving on the highway to work when all of a sudden it sounded like I was dragging a couple of garbage cans behind the car. Suddenly the idiot lights both came on - blown engine! I got out and walked to the back of the car and looked underneath - confirmation - lots of oil on the ground, "Merry Christmas"! I said out loud as I looked at the puddle under the engine. This could only mean one thing - a blown engine. I had to have the car towed to "Tom's Barn" a great air cooled Volkswagen repair shop on the west side of Madison. It was time for a rebuild and off to the bank for a refinancing of the loan. My Dad actually drove me to retrieve the car after the engine was rebuilt, which surprised me because he was always telling me that I was "going to get killed in that thing". My Dad had taken Ralph Nader's expose' on the Chevrolet Corvair and applied it to the VW beetle, contending that it was most certainly "unsafe at any speed". My Dad did not have the same affection for my 66 that I felt.

There were other little odds and ends I replaced over the next few months as well; ever had your wiper motor quit while your driving in a sleet storm? It's an adventure driving with one hand out the drivers window with a plastic windshield scraper acting like a windshield wiper! Almost everyday was an adventure - but regardless of the problems I would encounter I just couldn't bring myself to give it up. In addition I learned to do my own valve adjustments and tune ups as I knelt next to the engine compartment with my grease stained copy of John Muirs' "Compleat Idiot Book" and my tool set. I had become seriously bonded to my 66 beetle.

As the spring of 1976 turned into summer I met an intern where I worked named Tammy. I tried to flirt with her just about every chance I could get. Little did I know it then but two years later we would be married. It seemed like things were really looking up for me as July of '76 was coming to a close, but things were about to take a really nasty turn.

Just a little over a year after I bought the beetle, and after I finally had it mechanically sound, an uninsured motorist ran a stop sign at 60MPH, and my 66 was totaled out. You can see what was left of the car after it was hit (It rolled as well).

I ended up going through the windshield along with the seats, and ended up in a tobacco patch. A Bar that sat at the intersection completely emptied out and the patrons gathered around me as the local Sheriff and ambulance arrived on site.



Pictures shown here were taken courtesy of my roommate Mark, who went to the salvage yard and shot them while I was recuperating in the hospital. My first words to my Dad, whom I sure was thinking his worst nightmare had come true was "See...I told you I wouldn't get killed in that thing!" Dad was not amused.

Amazingly, and I know this is hard to believe, but I had no internal injuries and no broken bones as a result of this accident. I did have a fair amount of stitches in my right arm and back as a result of the windshield glass taking off my hide, but otherwise I was fine.

My next Beetle was a 1972 Marina Blue Super Beetle that I bought at Bruns' Volkswagen in Madison in 1978. I traded a 1972 C10 Pick-up truck even-up for the bug. The truck was fun but the gas mileage was terrible and being in college at the time I needed something economical. Mechanically this was a great car, with a solid engine and transmission that would require no repairs the entire time I owned it. It was the reverse scenario of the 1966 experience, which had a great body but bad mechanicals; this had great mechanicals and a substandard body. I even invested a couple thousand dollars into the body to try to stop the rust, but to no avail. I enjoyed that car for four years until it completely rotted out from under me (Wisconsin winters can be harsh). Although I liked the 72, it couldnít hold a candle to my old 1966, although I will admit that it was nice to actually have a fan on the dash to help with defrosting! It would be 18 years before I would drive another bug.

In 2000 Tammy and I took a vacation to Cozumel and we ended up renting a car one afternoon. Imagine my surprise when the car I received was an old VW Beetle. It was an interesting experience driving it around the island as, to put it lightly, this bug had not been maintained from a suspension standpoint or an interior standpoint. We bounced and hopped around the island all the while having a somewhat nostalgic experience. In retrospect I believe that was the keying factor that led me to start looking for another 1966 Beetle.

Then in 2003 I began to look for an old 1966 bug and found one in Georgia. The seller misrepresented this bug to me and I ended up sinking a ton of money into the car to make it mechanically sound. I also learned some of the places NOT to go to get your beetle fixed in Wisconsin. The world sure had changed, from a place where almost every city corner had a mechanic that knew how to work on beetles, to a place where good VW mechanics were few and far between and some were just out right dishonest. It took about three months for me to find a reputable, honest, and talented mechanic in Terry of Burlington Import Auto, located in Burlington Wisconsin.While the location was not near my house, it was more than worth the drive. Once I had the 66 in working order I drove the sea sand beetle everywhere including a trip to New York to visit a friend. I drove straight from Wisconsin and made the trip in 17 hours including multiple conversations with strangers each time I would stop to get gas (as I have mentioned before; everyone has a story about a beetle). The only regret was that I did not have a radio in the beetle at that point. To the right is a picture of the Bug outside the Capital Building in Albany, New York!

In 2005 I started the website www.1966vwbeetle.com which included a forum. I was hoping to get about 40 people to sign up on the forum to share stories and other information about their 66 beetles. I am continually impressed with how many people are still out there buying and driving the 66 model year beetle. We currently have well over 1000 active users on the forum. I think that is a tribute to the popularity and love for this car.

Later in 2005 I found another 1966 Beetle in California that was closer to what I really wanted in a Beetle. For one thing it had the original engine! So I put my Sea Sand Beetle up for sale and purchased the Sea Blue California bug. The 1966 Beetle from Georgia has since gone to a very nice couple in Indiana who have told me they just love it!

The Sea Blue Beetle needed a new interior as the previous owners had installed a grey velour interior complete with a mohair headliner. In addition the original paint was peeling on the roof , so it was time to repaint her to her former glory. After I had those two things done which were primarily cosmetic, I started on the mechanical issues. I had the engine rebuilt since I had no idea what the history was on the original engine, and I had the front end returned to stock (They had converted her to disk brakes). After these changes she looked and drove like she just came off the assembly line.

Living in Wisconsin gave me about a good six to seven months of available driving time each year. I never liked to get the 66 out on the roads until I knew all the salt from the winter was gone, and I would always get it off the roads before the first snowfall. Salt and beetles do not mix, and most of the complaints back in the 70's about beetles not having heat was directly related to all the salt applied to the roads in the winters; either the heater arms were rusted shut or the heater channels were rotted away. These problems are a thing of the past with me now as we finally relocated to the Dallas, Texas area in 2013.

My Wife Tammy and I currently reside in Nevada, Texas just North East of Dallas. Our two adult children (Jennifer and Jeff) live in Wisconsin but we have hopes that at some point they will give up the winters and move down here where they can enjoy decent weather all year round.

Feel free to roam around the site and look at all the VW info for the 1966 Model year - Be patient the site is always being updated. I'm sure there is more information to put out here, so if you have something you would like me to add, send me an email! Please don't forget to come to the forum and share your stories (I have found that everyone has at least one), favorite VW Repair Shops, VW Book Reviews, Photos, and General Chat.

I hope you enjoy the site!

Happy Roads!


John